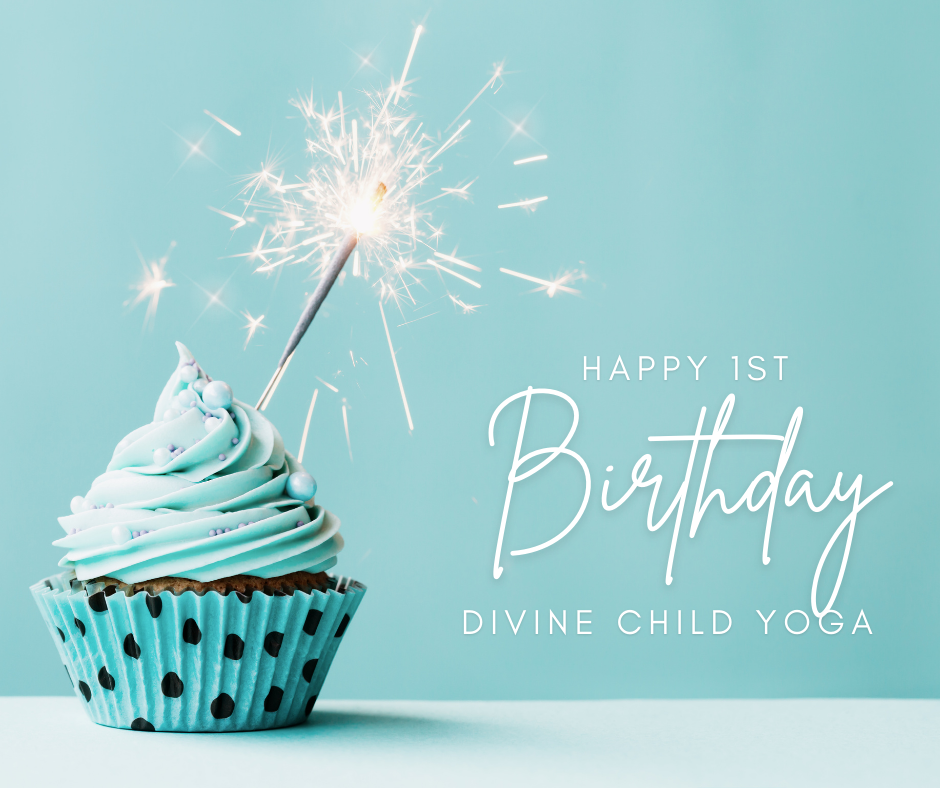 Today marks 1 year of Divine Child Yoga LLC! When I decided to start my own business, I knew I wanted to reach more students and families and share my love of the practice. This is obviously a broad vision, and one that most yoga teachers share and express. A clear understanding of what that meant and what it would take is still something I am working on! I have really been reflecting on what it means to me to be a yoga instructor and why I think it is so rewarding to share with our community.
I am happy to say I reached all three of my small business goals! While it may not seem like much, it's something I have dreamt of doing since I started teaching yoga classes 8 years ago! I'm not in the business of yoga to make money, but I do take what I do seriously and realize it is it's own special skill that not everyone has! It's something I had looked at as a hobby up until this last year. But I have invested so much time and money into teacher trainings and growing my expertise as a yoga instructor. I take any opportunity to work with others very professionally and with such joy and gratitude. Teaching yoga really is my calling and my passion, and I truly hope that shines through in each of my classes.
It has been such a joy to discover who I am here to serve, and that bringing yoga to the littlest yogis and yogis-to-be (yogi means student of yoga) is amazingly fun, rewarding, and yes sometimes challenging! I am constantly working on growing my offerings, reaching more parents, kiddos, and families, and learning and growing myself as a yogi! Yoga truly is a transformative practice, that awakens the whole self and brings a sense of peace, contentment, and well-being. Who doesn't need that!? By tuning into our bodies in a yoga class, we also bring awareness to other, more subtle aspects of the self.
Each yoga teacher has their own voice, their own perspective, and different experiences and specialities. Not one of us as human beings are identical! That's a lesson I also like to express to kids, as they too are trying to figure out who they are and their place in the world. Just like we all look different even in the same yoga pose, we all have a special gift to share with the world. So while I realize that there are hundreds of thousands of yoga instructors out there, I am confident that we each have a unique vision and teaching style. And while you may enjoy my classes and the content I am working on sharing, you just as well may not! And that is totally okay with me! I just appreciate you stopping by and sharing your time & energy.
As I work on growing my classes and offerings in my second year and beyond, I continue to put focus on inner work as well. That is really the essence of a yoga practice, tuning inward and discovering the true self. I wouldn't be authentic if I weren't taking the time to reflect on my own mind, body, and spirit. So with that, I am treating myself to a much needed massage, this momma needs it and I am celebrating my 30th birthday, my business birthday, and my thriving postpartum self!
Thanks to all of you that have supported me in some way this year! I truly am honored to hold this space for you, and look forward to more opportunities to serve this lovely community.
With Gratitude,
Christie
© Christie Trksak Gibertini | Divine Child Yoga LLC | www.divinechildyoga.com