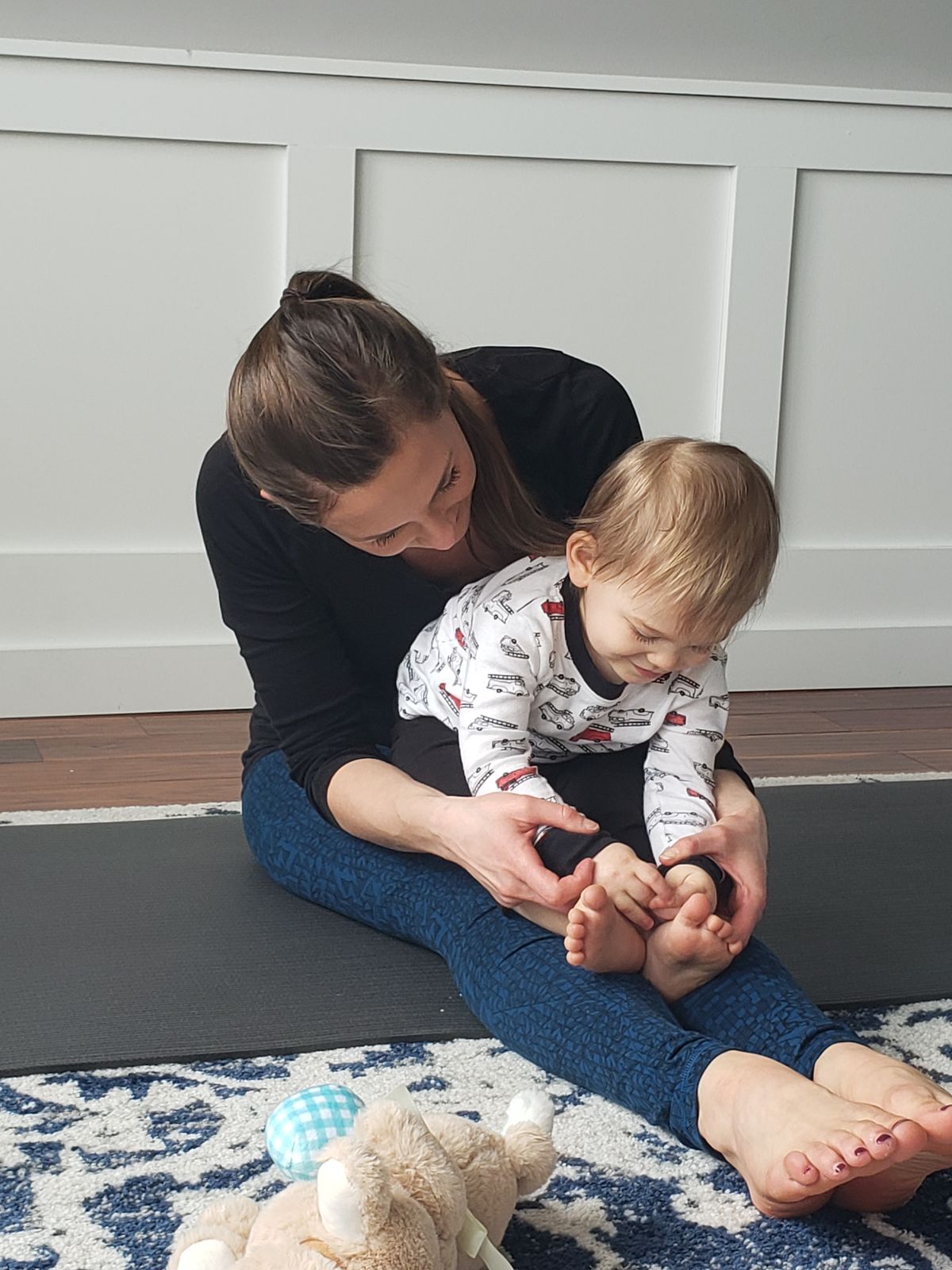 If you've ever seen my Toddler yoga offering and thought, "HAH my toddler sitting still to do yoga?! Yeah right", this post is for you!
Hear me out. A toddler yoga class is structured specifically for those tiny energetic bodies! It is a wonderful way for them to get some energy out and get their energy moving. In no way are they expected to sit still and slowly move through poses in the way we think of in an adult class. Of course that is not age-appropriate for tots and would be B-O-R-I-N-G!
In Parent Tot yoga, we move through poses in a fast paced & exciting way, using sing-song, music, props, and more along the way. Each week will feature something a little different, but ultimately follows the same flow and structure. This predictable structure and routine of the class really allows space for tots to open up. They learn what to expect and learn best through repetition at this early age. This is why I like to set up Parent Tot yoga as a 4 or 6 week series. Sometimes it only takes a class or two for a child to feel comfortable to hop on in and get moving with the group. Other tots may take longer, the whole session or more! It's totally okay, and completely normal!
You see, kids need to feel comfortable to try something new. Yoga is different and new, "Hmm, I didn't know I could move my body that way. I've never seen that teacher before, I'm not sure about her. This is a new space and it's very large, I don't quite feel secure here yet. That's a new family I am not familiar with." These are all thoughts that can come up for a child, and of course at this age they may not be able to verbalize what they are feeling. The nice thing about a series is they eventually come around and will learn that they are in a safe, supportive space. Drop ins are welcome, but I like to encourage the toddler yoga series since you really can see more progression over the course of a few weeks rather than just a one-off class.
Your child may be super shy, or they may be super high energy and ready to run wild! Guess what, this is totally fine too! You may think your child is not "listening" or "cooperating", but in fact they are still learning. The funniest thing happens, you think your child is paying zero attention to what the class is doing, then at home you randomly see them on the floor in cobra pose chanting "kick-kick-kicking Cobra!" You think "Wait what?! They never ever did that in class! They are usually running around by then." But that's the thing parents, they may not have felt comfortable trying things in class, but at home they are willing to try and even show you what they can do. Hearing and seeing what the class is up to, even if they don't join in right away or at all, is still giving them a chance to observe and learn.
You may find it frustrating or embarrassing, but please know there is no judgment in the yoga space! In fact, we can absolutely all sympathize, every parent has totally been there! Trust me, this is my son Vinny in class and I am the yoga teacher for crying out loud! His dad brings him to the Parent Tot yoga classes that I teach, and my kid is totally the one that runs all around most of the class! He joins in sometimes if he's interested, but otherwise I give him the space to explore and check out the space and the other participants, no apologies!
As the parent or caregiver in Parent Tot yoga, it is never up to you to try to force or wrangle your kiddo! Sure if there is a safety concern, we must intervene. But otherwise? Just join in and try to poses and activities along with the class to help model for your child. Yes, you may feel silly! But again, no judgment and we are all doing it and having fun along the way. Of course if there is anything in the class that doesn't feel good to you in your body, you are always encouraged to sit that out and just do what you feel comfortable with. I always say as the instructor, I am just making suggestions! Take what you like and feel free to leave the rest:)
Also, I make sure to include some yoga postures, breathwork, and relaxation for us grown-ups in each class. Because let's face it, we need it more than those flexible little rubber people do!🤣 But in all seriousness, you really will feel better after class, lighter and glad you took the time and commitment to come. You will bond with your child, and do something good for yourself and your kiddo.
So please, I'd love for you to join us! I really hope I have encouraged you to give Parent Tot yoga a try and alleviated any doubts or apprehension you may have had! If you have other questions or concerns, I am always here for you so please reach out to me anytime.
See you (and probably Vinny🙂) in toddler yoga class soon!
With Gratitude,
Christie
© Christie Trksak Gibertini | Divine Child Yoga LLC