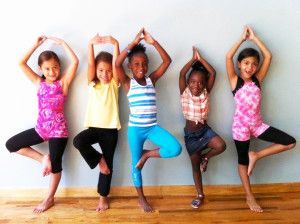 Want to know why I became a YogaKids teacher? (It was my first yoga teaching love!)
I was attending an early childhood education teaching program in college, but really didn't feel aligned with the system and felt discouraged by the lack of creativity where I was working and attending.
Instead, I wanted to help kids explore their fullest potential and engage the whole body as a tool for learning, while building strength, confidence, and community along the way. I really wanted to teach the WHOLE child – body, mind, and spirit. In 2014 I decided to enroll in my YogaKids certification course and haven't looked back since!
Getting kids moving and teaching from a holistic approach is so rewarding and important, and I love getting creative with the activities and themes for each class. Kids have unique challenges and stressors today, especially during this time of pandemic where e-learning and disconnection from friends and peers can feel especially isolating. Yoga actually means "union", and in yoga we unite our body and mind for peace and clarity. It also creates a supportive and welcoming community to learn and grow from one another.
Plus, there are the physical benefits of stretching and strengthening all areas of the body that happen in a yoga practice. Especially with kids doing online learning without recess time and moving between classes, it is up to us to give kids the opportunity to move, and yoga is a great way to incorporate movement & brain breaks throughout the day!
And I have a BONUS freebie for you of 3 sequences with videos to do at home, plus partner yoga poses! In the contact form below, type "KIDS FREEBIE" and I will email it to you asap so you can dive in. I hope your kids love trying out these yoga poses at home! Teaching kids yoga is my passion and I absolutely love getting kids of all ages moving and excited to learn new poses and tools for self-discovery. Let me know how much fun you have!
With Gratitude,
Christie
© Christie Trksak Gibertini | Divine Child Yoga LLC | www.divinechildyoga.com