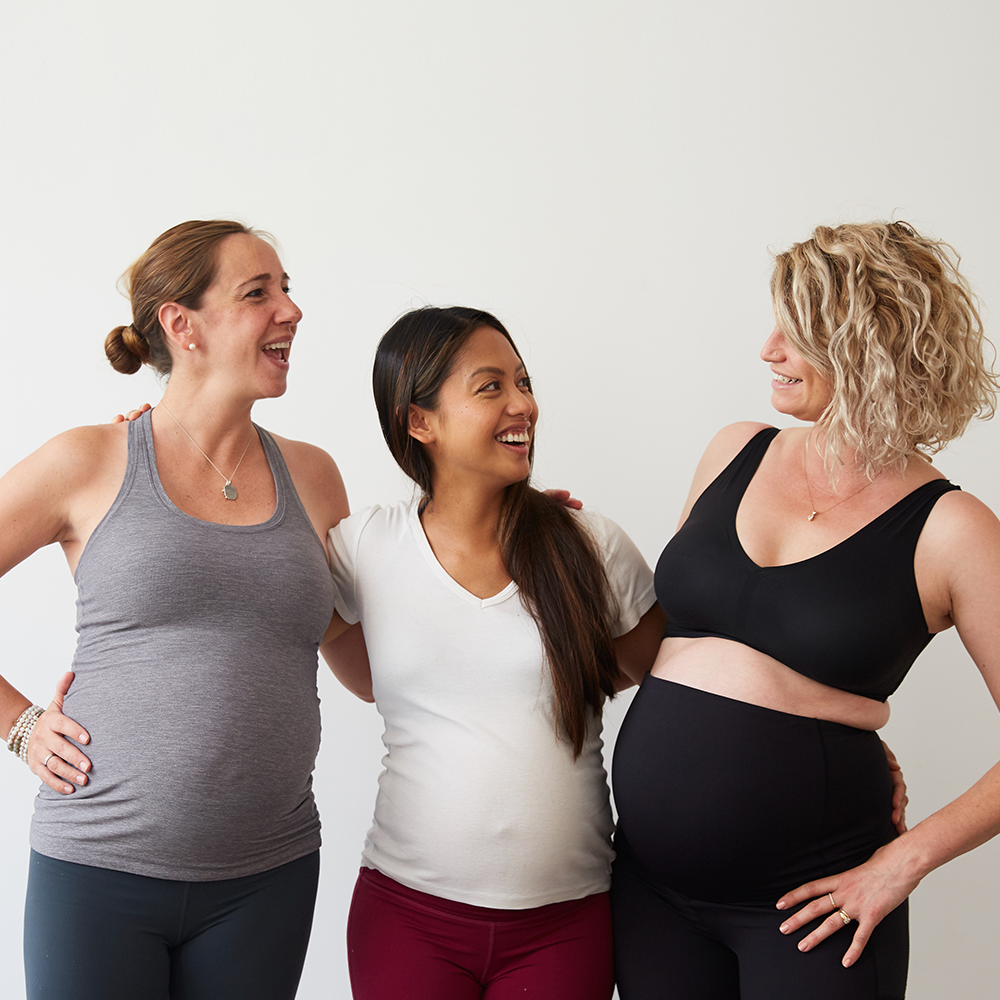 Ask any new mom, and I am sure she will agree that at some point during pregnancy or postpartum she felt lonely or isolated. The changes that take place throughout pregnancy can make you feel pretty lost and like you are in a completely new & unfamiliar body! It can really feel like it's hard for anyone to really relate to your pregnancy or life with a new baby.
It can sometimes be a struggle to admit that there are difficult and challenging emotions during these months of growing and caring for a new baby. We feel judged by others if we complain about it, or they will respond with the statement "it will all be worth it" or "but it is such a blessing". And of course it is and we know it! But there are moments that we would like to vent to someone who is also feeling it and can totally relate. That's where going to a prenatal yoga class or baby yoga class can really be a benefit!
Group yoga classes really do create a sense of community. By attending a prenatal yoga class, women have the opportunity to meet moms going through similar life experiences. You can meet other women and make lifelong friends because you will be sharing this season of life and motherhood. Your children will likely be the same ages, and can make for great connections for future friends and playdates with the little ones! This can be especially great if you are a first time mom coming to prenatal yoga and would like inspiration from other local new moms and seasoned mothers alike.
There is just something really magical and special about a group of expecting women coming together to support themselves and their self-care, their babies, and their fellow mommies! If you are looking for a specific recommendation or advice on what has worked for other moms, a prenatal yoga class or baby yoga class is just the place to ask moms for some insight! It is such a lovely way to connect with others and share experiences.
Many topics that you may not even be aware of can come up. For instance, you may hear about a great recommendation for a prenatal massage therapist or how an IBCLC helped another mom that was struggling with breastfeeding. Education beyond yoga is often offered in a prenatal yoga class. Women are exposed to new ideas, sometimes from the teacher, but most often from fellow students. Women can learn of different resources that can support them on their journey. As your yoga teacher, of course there are topics that go beyond the scope of the yoga space. Always consult your care providers and take empowered responsibility for you and your family's health.
Being around other women that are pregnant too means that you are surrounded by others who are going through similar challenges and can completely empathize with what you are feeling. Of course each and every pregnancy and baby is different, but likely there is someone within the group that has been where you are at some point!
A yoga class can be that supportive space to connect with yourself, and with others, about how you may be feeling and processing the changes physically, mentally, and emotionally. The yoga space provides a place to gather and express any feelings that come up during pregnancy. For example, not all women enjoy being pregnant and may feel guilty about this. Both my hands are raised here on this one! A prenatal yoga class is a great place to remember that you are not alone in those feelings.
Lastly but no less importantly, if you are home with a new baby, a baby yoga class can be a wonderful reason to get yourself and your baby out of the house. Getting out can be a challenge and does take practice, but it really is a great way to break up the day and get a change of scenery. Plus if you're anything like me, it gave me a reason to actually shower & brush my hair for a change! Connecting with other adults is necessary for our mental health, too. Feeling stuck at home with the baby and small kids can really feel isolating, so always know that you and your little ones are welcomed and supported at yoga class.
I hope that this has highlighted the importance and benefits of community within the prenatal yoga, postnatal yoga, and baby yoga classes. If you are ever struggling with loneliness, overwhelm, or isolation, please do not hesitate to reach out to me below for support and encouragement. And of course, contact your care provider if you are suffering from symptoms of postpartum depression. There is absolutely no shame in this, and if you do find yourself struggling, please know that the mindful yoga practice can be a great tool to bring some balance and harmony to the chaos that is new motherhood. I am always here if you ever need someone to chat with or to cheer you on!
With Gratitude,
Christie

© Christie Trksak Gibertini | Divine Child Yoga LLC | www.divinechildyoga.com